Starting A Video Call
This article describes how-to use the Zimbra Connect Pro service at Skyway Networks to make secure video calls from your computer.
What You Will Need
If you are the call organizer initiating the call:
If you are receiving the call as a participant:
For clarity, only the call organizer requires an email account at Skyway Networks with the requirements listed above. Call participants will need only a supported web browser and a webcam or microphone, and do not require an account at Skyway Networks, nor any software to be installed. Everything a call participant needs is already built-in to their web browser.
Getting Started
Step 1.) Login to your email account at: https://emailhosting.cloud.
Step 2.) Click on the "Connect" tab.
Step 3.) Click on the "New" button, then in the menu that appears, click on "New instant meeting".
Step 4.) Provide a name for the Meeting, or accept the default name provided. Next, enter each meeting attendee's email address. If an attendee's email address is already in your address book, a pop-up will appear that you can click on to auto-fill the email address. If inviting multiple people to pariticipate in the call, continue entering each attendee's email address, one at a time, pressing enter, after each address entered. When finsihed, click the "Start" button.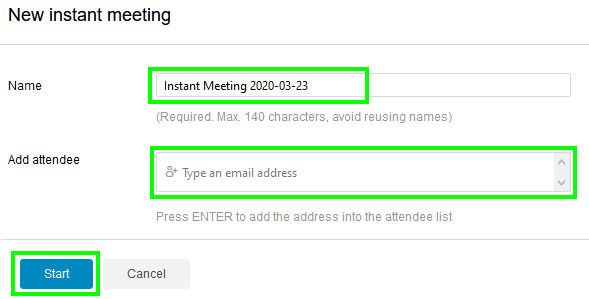 Step 5.) If this is the first meeting you have created using Zimbra Connect Pro, your web browser will display a prompt similar to the screen shot below asking permission to use your webcam and/or microphone. You must click the "Allow" button for Zimbra Connect Pro to successfully start the call. Your web browser should remember this permission, so you are not prompted for future calls with Zimbra Connect Pro. Additionally, some anti-virus products (example: BitDefender) may also pop-up a warning about using your webcam or microphone. If you see such a warning, you will need to allow the request. Should an anti-virus product block using your webcam or microphone, it may prevent other call participants on the call from seeing your video stream or hearing your audio. If this occurs, set your anti-virus product to allow use of your webcam and microphone, end the call, then repeat steps 2 - 4.
Step 6.) The video call (or audio-only call, if no webcam is available) will now start for the call organizer. Simultaneously, email invitations will be sent to each call attendee asking them to click a link to join the call. When an attendee clicks the link to join the call, they will see a page similar to the screen shot below. They can enter any name they would like to use for the call, but they must enter the same email address as was used by the call organizer to invite them to the call. After entering their name and email address, each call attendee, who has not previously used Zimbra Connect Pro, will see a one-time permissions prompt, as described in step 5, where they must click "Allow" to successfully join the call.
Step 7.) In the event that someone does not receive an email invitation for the call, you also have the option to send them an email or instant message with the meeting's URL. To find the meeting's URL, click on the blue information icon highlighted in the screen shot below. Next, click on the blue Copy icon that appears next to the meeting URL, as highlighted in the screen shot below. Clicking the "X", highlighted in the screen shot, returns you to the video call's instant messaging window. If a call partipant is outside of your organization, send them an email with the meeting URL. Or, if the call participant is within your organization, you can either email them the meeting URL or send them an instant message.
Step 8.) If you are conducting a 1-to-1 video call, each call participant will see a video stream of their self in the lower left corner of the screen, while the other call participant will appear as a larger video stream in the top center of the screen. Each participant's video stream will default to HD quality, but will automatically adjust, as needed, based on each participant's available Internet bandwidth and computer hardware capabilities.
For group video calls, each participant will appear on screen, similar to the screen shot below. You can make any participant's video stream the large top center video stream, just by clicking on the participant's video stream that you want to enlarge. Testing has shown that most web browsers can handle up to 6 video streams before web browser performance suffers. This number may be lower for older computer hardware or limited Internet bandwidth. While there is no server-side limit as to how many people can participate in a group video call, to avoid call degradation due to web browser limitations, it is recommend for 1-2 participants, who are presenting, to leave their video streams enabled while all other participants switch off their video streams. Each participant can easily toggle their video stream on or off at any time during the call. When toggeled off, a still image from the video stream for the participant is shown instead. Call controls, including turning video streams on/off is discussed in the next step.
Step 9.) While a video call is active, each participant has several controls available, as highlighted in the screen shot below:
Red Phone Icon: Disconnect/Hang-up from the call
Green Camera Icon: Toggle your video stream on/off. The video stream is off when a slash appears through the icon.
Blue Microphone Icon: Toggle your audio mute on/off. The audio mute is on when a slash appears through the icon.
White Monitor Icon: Replace your webcam video stream with a screen share. You will be prompted to select which app or computer monitor (if you have more than one) you want to share.
If you are the call organizer and you disconnect, all call participants are disconnected and the meeting ends. If you are a call participant, and you disconnect, the call continues with the remaining participants. You can easily re-join if needed, by clicking the same meeting URL you received earlier via email or instant message from the call organizer.
Tip # 1.) During a video call, on the left side of your screen, an instant messaging feature is available. Any messages typed in to the highlighted area, in the screen shot below, will be automatically displayed to all call participants after pressing enter. Clicking on the smiley icon enables selecting an Emoji from a large variety of options which can then be inserted in to your instant message to the call participants.
Tip # 2.) If you are logged in to the Zimbra Web Client (https://emailhosting.cloud) during the video call, you can safely access other parts of your account, such as your Inbox, Address Book, or Calendar, to name a few possibilities, without disconnecting from the call or interrupting your video stream to other call partipants. When you access other parts of your account, the video feeds of the other call participants will temporarily disappear from your screen, however the video stream of you will remain on-screen in the lower left or right corner of the page. Simply click on the video stream of yourself and you will instantly be returned to the page where all call participant video feeds can be seen.